An innovative program to improve overall health and aid in healthcare cost containment
Dental health can have a significant impact on conditions such as diabetes, coronary artery disease (CAD), stroke, head and neck cancers, and Sjögren's Syndrome. It can also affect the health of pregnancies, including a reduction in low birth weight babies and premature deliveries. The reduced morbidity of patients across all age groups resulting from improved dental health has been demonstrated by lower rates of hospital admissions and emergency department use.
Our Dental4Health® program uses medical diagnostic coding from our partner health plans claims data sets to proactively identify members with these conditions and automatically enroll them in the program (pregnancy excluded). Once enrolled, these selected members have access to enhanced dental benefits backed by outreach and education that can help them manage their conditions and achieve better overall health. Our studies have shown that as oral health and wellness improvements are rendered through preventive care delivery, the population that takes advantage of the Dental4Health program has significantly reduced healthcare costs.
Lower average medical costs for employers and employees
LSV and its health plan partners have conducted continuous studies of the effectiveness of our Dental4Health programs over several years. A recent multi-year study of members with both health and dental coverage for at least one year showed significantly lower medical costs for members who use their preventive or periodontal dental services covered under this program versus those who do not use them.
The positive medical cost difference between users of the program versus nonusers in the study was $4,649 per member with CAD symptomology and $1,459 per diabetic member.1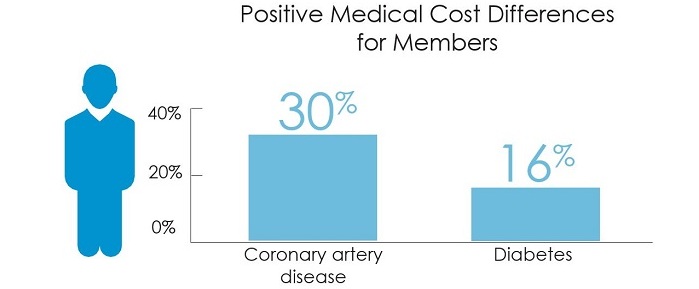 A powerful offering
Our studies show that nearly three-quarters of human resources decision-makers are familiar with the link between oral health and overall health and the potential for medical cost savings associated with regular preventive dental services. And, this is an important factor when they choose an insurance carrier.2
For groups that also have health plans through our partners, adding dental coverage that includes Dental4Health to their benefits package provides both health and cost savings advantages. This program is more effective than offerings available from stand-alone insurance carriers, as our program allows for data-driven, targeted outreach, as well as alignment and integration of care coordination and provider delivery systems.
Dental4Health strengthens both the medical and dental offerings of our health plan partners. It is currently implemented through the Oral Health for Overall HealthSM program in Florida, the Oral Health for Total HealthSM program in Hawaii, and the Dental XtraSM program in Arkansas.
If you'd like to learn more about our program, feel free to contact us.
1 Hawaii Medical Service Association (HMSA), "HMSA Dental User Medical Cost Trend Average (2013-2017)," 2018.
2 CatalystMR/LSV, "HR Benefits Decision-Maker Survey," 2016.